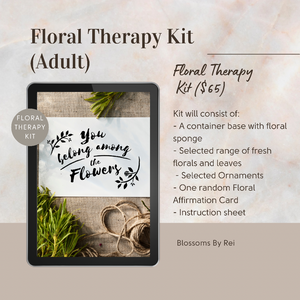 Floral Therapy Kit
Let your time stand still and practise mindfulness with our floral therapy kit. Take your time to smell and touch the flowers and let your creativity show in your masterpiece. Along with this floral kit comes a random affirmation card, limited edition. 
If you like, you may choose to subscribe to this therapy kit - weekly or monthly, it all up to you. The florals are always random and will be florist picked. 
This makes a great perk-me up gift for a dear friend too!